Biafra, IPOB, Nigeria, Nnamdi Kanu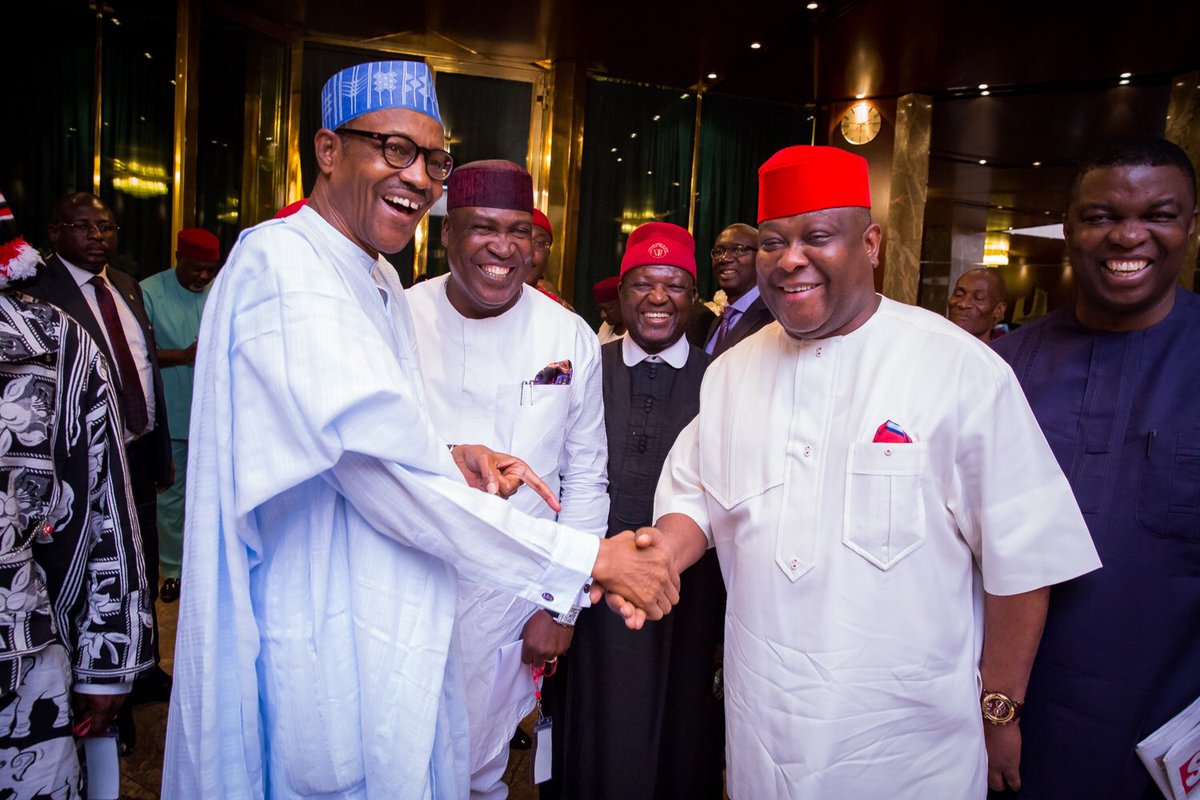 It has totally turn to be a new strategy by power hungry political harllot job seakers in South East that each moment they seek for popularity they mention IPOB and her leader Mazi Nnamdi Kanu in their gullible political statements. The norm have started been practiced by all including the devil himself in the person of Peter Obi the former governor of Anambara State.
In what seemed to be a step to cover up shame in the face of all the old South eastern region of Nigerian rulers after the Lion of Ekiti State Gov. Ayodele Fayose and the Fearless Femi Fani Kayode have severally pledged their support to the plight of Biafrans and their leader Mazi Nnamdi Kanu to the point of Fayose wearing a Jewish skull cap to proof to the Sultan of Sokoto that he gallantly stand behind the restoration of the nation of Children of God on earth back again, the former governor of Abia state took a step to visit the amiable leader of IPOB Mazi Nnamdi Kanu in prison just to place himself popular on the face of daily magazines and newspapers in Nigeria knowing that his popularity is fast fading away as he came out campaigning for unconditional release of Kanu, not up to a week, that one died off till now without any follow up, it didn't take time, Dr Nnia Nwodo was made the president of Ohanaeze Ndi Igbo, in what seemed to be an avenue to create awareness of his position, he took to television interview to voice out his intended work as he vows that he can never be silenced from speaking the truth that is capable of releasing the Igbo populace from un wanting destruction of their lives and properties by the Nigerian government and her military might even unto death but all that ended in that seat of interview at that studio as no tangible moves have been made to prove his words till date. Also in what came to be a great shock and surprising to all, the governor of Imo state Rochas Okorocha took to the front of all the news papers to castigate the government of his master Buhari thinking that he is dead as highly speculated over the social media thereby campaigning for the release of Kanu but immediately made a U turn praise to his pay master Buhari as he returned, a very hypocritical action indeed, as these are not enough, just few days to the appearance of the leader of IPOB Mazi Nnamdi Kanu to appear in court of law at Abuja Federal High Court, the former CBN governor Prof Chukwuma Soludo and his cohorts went to visit the embattled leader of IPOB Mazi Nnamdi Kanu in kuje minimum prison, after their mission they all yelled out loud for the unconditional release of Kanu in a conference meeting tagged Nzuko Ummunna but since then, no legal step have been taken by them to back their support as I see all to be an avenue they have created to use in re popularizing themselves and advertising their newly formed political body with the name of IPOB and Mazi Nnamdi Kanu.
The worst of it all is the call made by the former governor of anambara state Peter Obi to Buhari on the 23rd of March demanding him to unconditionally release Kanu and I want to ask, Who is he that will not ask for the release of Kanu? Maybe the next one will be Sultan of Sokoto and finally the drunkard governor of Anambara Willi Obiano and the Cry Cry governor of Enugu Ifeanyi Ugwuanyi.
Blood suckers, your cups will soon get filled up by the blood of innocent Biafrans you people killed and allowed to be killed for your selfish interests.
Biafrans is using this medium to warn all you one Nigerianist to desist in using the name of our leader Mazi Nnamdi Kanu to gain CHEAP POPULARITY for your selfish political interest else you will face the dance you beat for yourselves. Enough of all these hypocritical demands without taking steps to ensure that your demands are attended to.
Are you all not ashamed that Boko Haram members are being released from detention day in day out without any of the northern governors demanding for their release on the faces of newspapers but the only mouth piece of the Biafran nation, the only man that induced fear down the spines of the Nigerian government even as he is still in detention has been held for almost two years with the government erring in adhering to court orders and has perfectly subjected you all under islamization but all you so called prominent men could do is rant on the front page of newspapers. Shame on you all, only Mazi Nnamdi Kanu the Ohamadike 1 of Biafra is the answer and solution to the impending nemesis that is about to rock you all from the hands of the Hausa Fulani oligarchy.
A word is enough for the wise, Biafra is a spirit and Mazi Nnamdi Kanu is her messenger and thus, his name shall not be used by evil people in the land to scavenge for reputation that they don't merit.
God Bless and Protect Mazi Nnamdi Kanu
God Bless IPOB world wide
God Grant Biafra.
- Onoja Christian Obinna
Abia Media Team